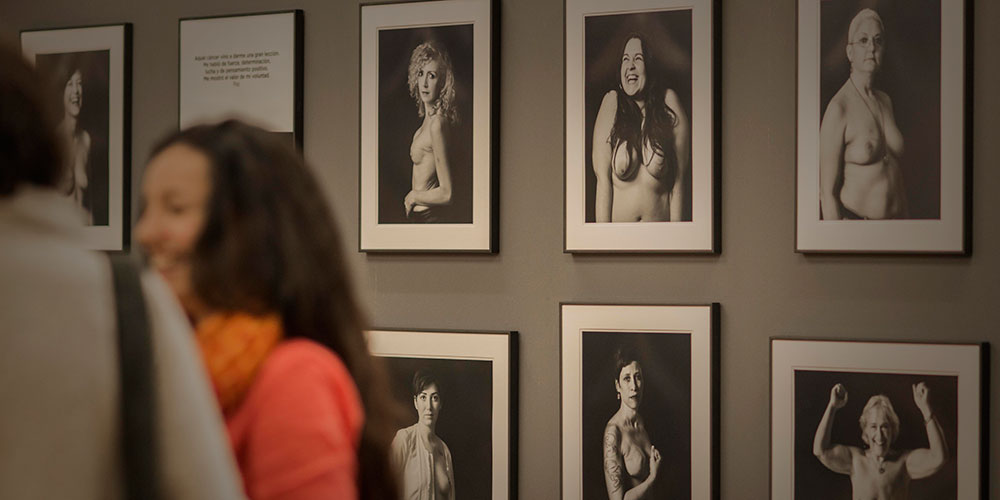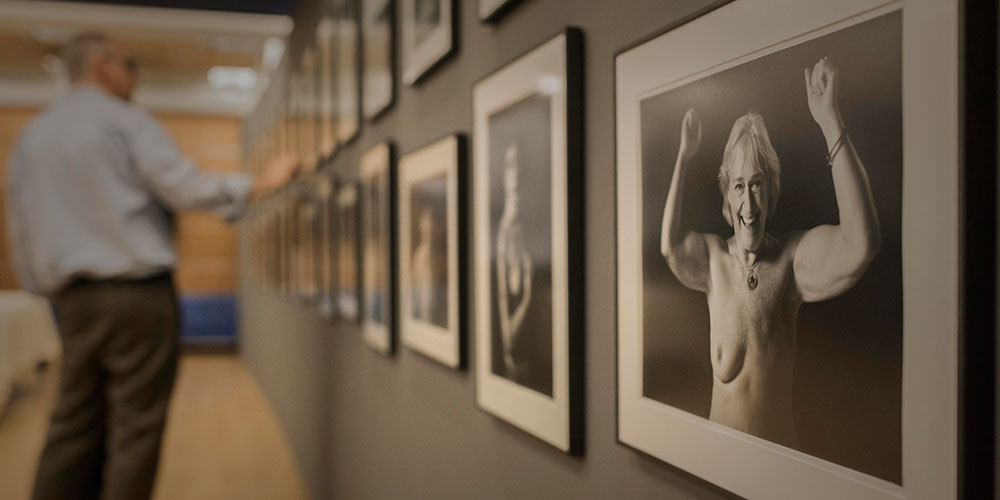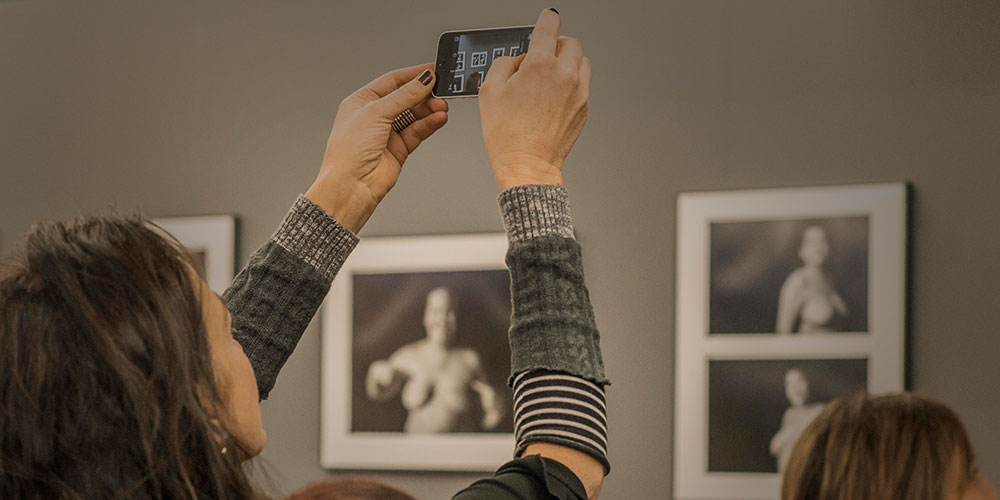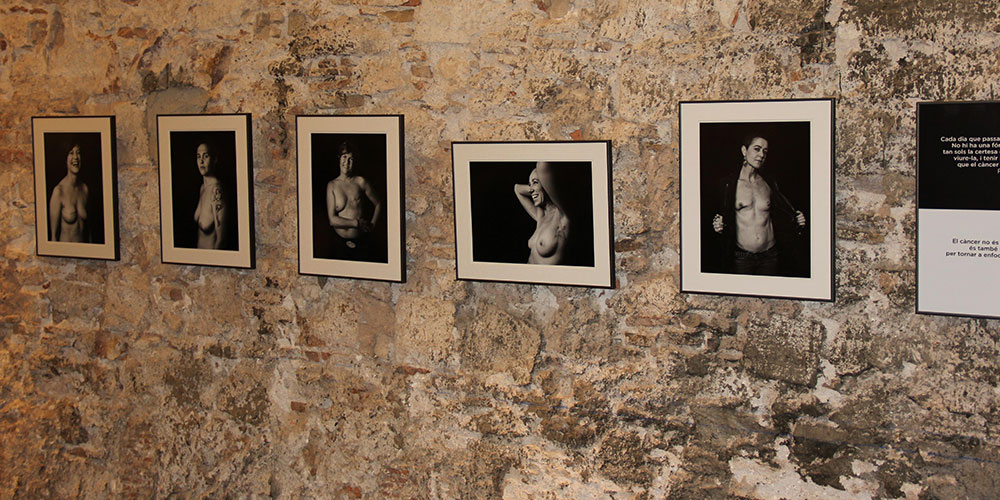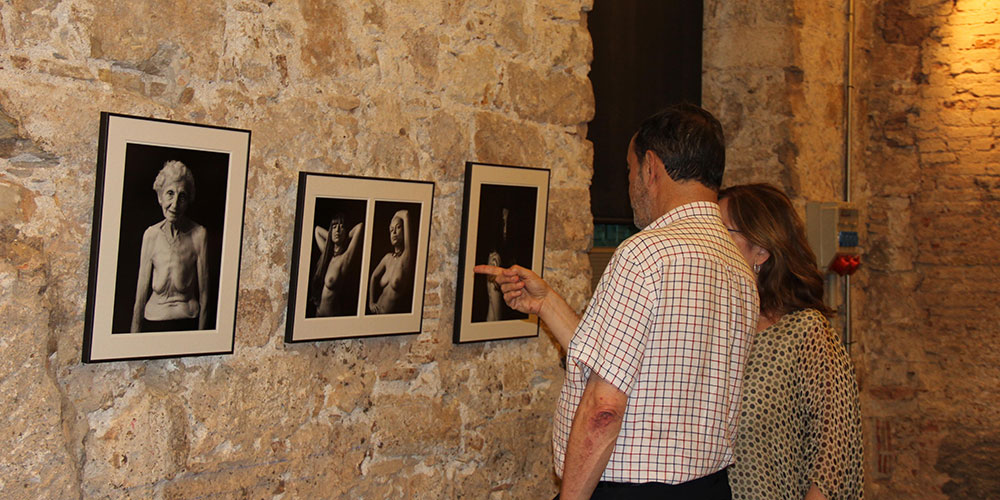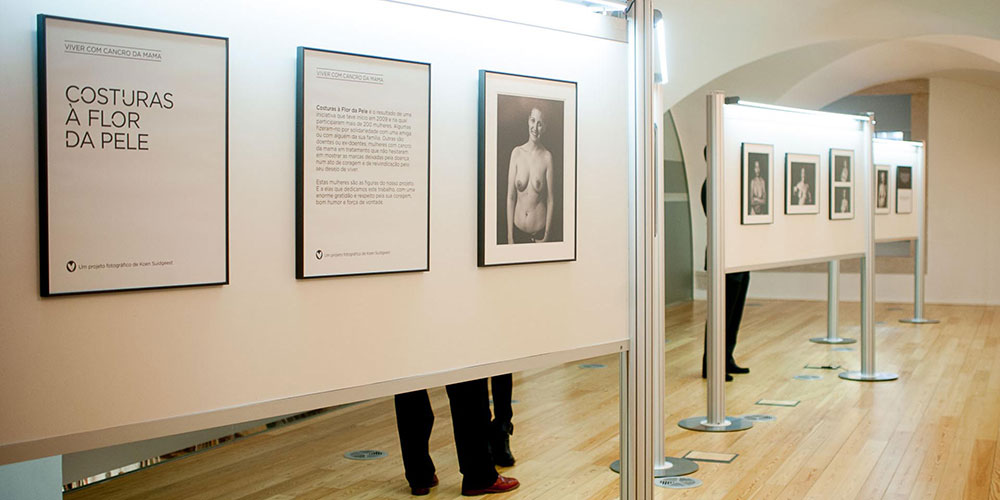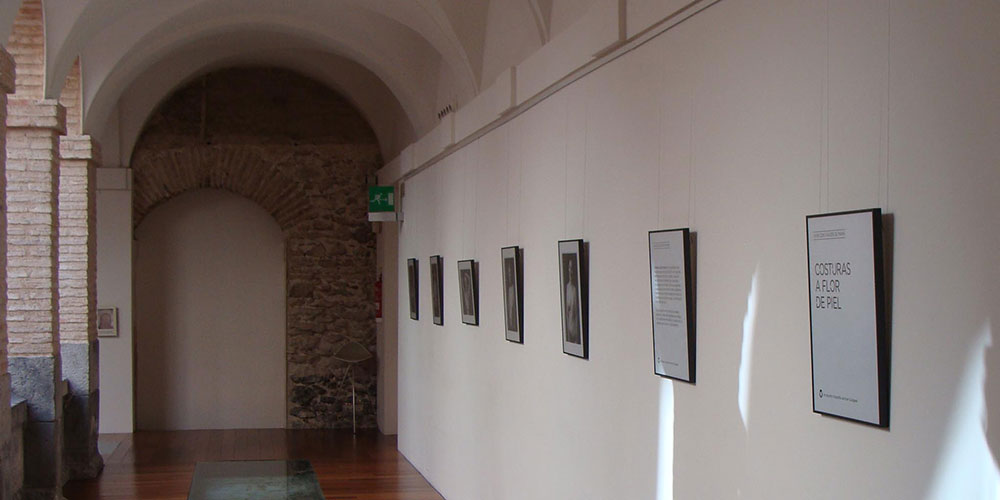 Exhibition content
The exhibition consists of 30 aluminum frames, 40 x 50 cm in size (23 vertical and 7 horizontal), five with text and 25 with black-and-white photographic images mounted within a passepartout.
Promotional elements
The exhibition includes the design and printing of a promotional poster. Additional material can be ordered separately (postcards, flyers, etc.). We can also customize and print the catalogue according to your needs.
Who can book the exhibition?
The exhibition can fit into a variety of spaces. It is available to organizations that are committed to raising cancer awareness, and which guarantee free access to the public.
Booking
Managing the exhibition generates costs that vary depending on each specific booking. For further information on the possible costs involved, please write to us. We are doing our utmost to keep costs down and to make the exhibition available to as many entities as possible.
CONTACT
Costuras – living with breast cancer has been seen in
ARLON (Belgium): 9 May to 9 June 2018. Le palais – Place Leopold. In collaboration with Recontres Photographiques d'Arlon
IGUALADA (Barcelona): 23 February to 18 March 2018. L'Adoberia & district hospital. In collaboration with Fine Art Igualada
THE HAGUE: 3 to 31 October 2017. Atrium City Hall. In collaboration with Atrium Den Haag
TARRAGONA: 24 November to 11 December 2016 / Tinglado 1 del Moll de Costa del Port de Tarragona
BARCELONA: 15 September to 10 October 2016 / Hospital de la Vall d'Hebron
PALMA DE MALLORCA: 22 June to 4 July 2016 / Hospital Son Llàtzer
PALMA DE MALLORCA: 2 to 19 June 2016 / Hospital Universitario Son Espases
GRANADA: 5 to 29 April 2016 / Escuela Andaluza de Salud Pública
SEVILLA: 2 to 22 February 2016 / Hospital Universitario Virgen Macarena
PORTO: 4 to 18 November 2015 / Casa das Artes / With the cooperation of Centro de Mama do Centro Hospitalar de São João
MADRID: 26 October to 1 November 2015 / COAM – Sala Mercadal / Organized by @_SOLTI
SANTANDER: 19 to 23 October 2015 / Parlamento de Cantabria / With the cooperation of AMUCCAM – Asociación para la ayuda a las mujeres con cáncer de mama
BARCELONA: 6 to 19 June 2015 / Sant Pau Art Nouveau Site and Santa Creu i Sant Pau Hospital
MADRID: 5 to 23 March 2015 / Seat of the European Parliament
LISBON: 6 to 20 November 2014 / Lisbon Story Centre / Sala Premium / With the cooperation of Liga Portuguesa contra o Cranco
CIUDAD REAL: 7 to 27 October 2014 / Claustro bajo del Convento de la Merced / Organized by AMUMA (Asociación de Mujeres Afectadas por Cáncer de Mama y Ginecológico de Ciudad Real)
BARCELONA: 16 to 27 June 2014 / Convent de Sant Agustí
MADRID: 4 June to 12 September 2014 / Sala Cambio de Sentido, Fundación ONCE
_____________________
Costuras in 2017 (PDF-7,2 KB) – Spanish
Costuras in 2016 (PDF-374 KB)
Costuras in 2014 (PDF-400 KB)
Collaborating with patient organizations
We feel that the final beneficiaries of the exhibition should always be the people affected by cancer. Therefore, involving local or national patient organizations is a central part of the project.
Don't hesitate to get in touch with us if you are interested in the exhibition.
Sponsors
The exhibition was produced through a crowdfunding campaign and thanks to the generous contributions of 220 individuals who chose to make a positive difference to the lives of people with cancer. Additionally, a variety of companies have given their support to the project, both in the form of funding and by making significant donations in kind. To all of them we would like to express our sincere gratitude.